CrossFit Silos – CrossFit
Weightlifting
Superset the Windmills and the 2xKB Angel Press. You don't have to use the same weight for both movements.
Kettlebell Windmill (3×10 (5 per arm))
3×5 per arm (Record heaviest load)
Bend over to right side with knees straight. Reach toward toes of left foot with right hand. Keep knees straight and kettlebell balanced over left shoulder with both arms extended. Touch left foot. Raise back up to original position, maintaining balance of kettlebell over head above left shoulder. Repeat. Continue movement on opposite side.
Tips & Safety: Don't put your feet into the final position until you have the kettlebell locked out overhead; attempting to Clean the kettlebell while in the final position puts your back at risk.
Movement Demo 1: https://www.youtube.com/watch?v=ITSmgn_BQgY
Movement Demo 2: https://youtu.be/_CdKYMgAsdo
2xKB Angel Press (3×10)
2xKB Angel Press:

Start sitting down with your knees bent, holding two kettlebells overhead. Slowly lower towards the floor while bringing the kettlebells down to your chest. Contract your abs to raise your torso while simultaneously extending your arms.
SCALE:

Movement to Seated Z Press Demo: https://youtu.be/6mBrv2Xrzds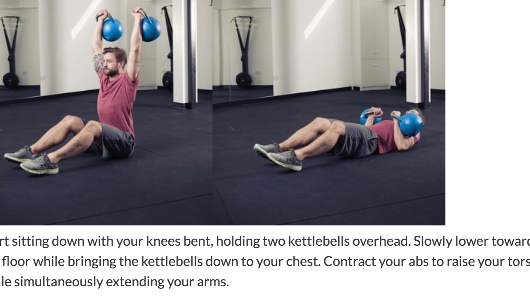 2xKB Angel Press,2xKB Angel Press
Metcon
DUBs and Deads (Time)
For Time:

50-40-30-20-10 Double Unders (Rx+ 100-80-60-40-20)

21-15-9-6-3 Deadlift (135/95) (185/125) (225/155) (275/185) (315/215)

*Lay out your plate beforehand and scale appropriately*