CrossFit Silos – CrossFit
Gymnastics
Gymnasty: 6×30 sec handstand hold (6 Rounds for time)
6 sets:

30 second unbroken handstand hold

.

Between each set 10 sec hollow hold into 10 sec Superman hold
For the handstand: this is NOT wall facing. focus on pressing through ground to "grow tall" so shoulders open up.
For hollow position: Use scaling options such as a tuck hollow or one leg out if needed. Focus on tucking pelvis under, ribs towards bellybutton and shoulders slightly internally rounded. Lower back pressing thru ground to maintain a great position as well.
Metcon
Dumbbell HANG SPLIT SNATCH movement demo: https://youtu.be/EiF0ef7bLZU
Moon (Time)
7 Rounds for Time:

10 Dumbbell Split Snatch Right Arm, 40#

1 Rope Climb, 15′

10 Dumbbell Split Snatch Left Arm, 40#

1 Rope Climb, 15′

*Alternate Feet in Split Snatches*
In honor of U.S. Army Specialist Christopher Moon, 20, of Tucson, Arizona, died on July 13, 2010
To learn more about Moon click here
Do 2 rope climbs for every 1 due to short rope. LADIES USE 20lb OR 25LB DB. ALSO- THE DB SNATCHES SHOULD BE FROM THE HANG – THIS IS ENTERED INCORRECTLY IN WODIFY!!!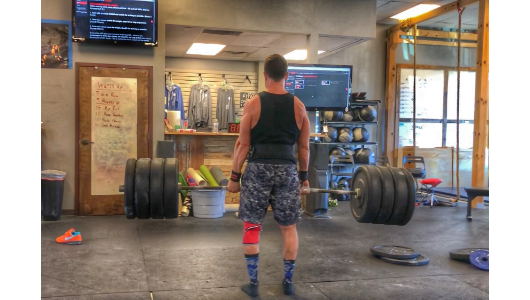 Deadwind